The OPCA would like to thank our members and friends for attending the 10th Annual OPCA Charity Golf Tournament held Friday September 22rd at the Tyandaga Golf Course in Burlington! This was a new venue for us and the staff and course were amazing and we appreciate them hosting our tournament. The weather on Friday was beautiful with a mix of fall temps in the morning changing to late summer in the early afternoon. Support and turnout were fantastic this year with approximately 83 golfers. It was also our return to a shotgun format with a BBQ dinner following the golf. It was nice to see everyone again after the summer to enjoy a day of golf together to benefit a great charity like Threads of Life.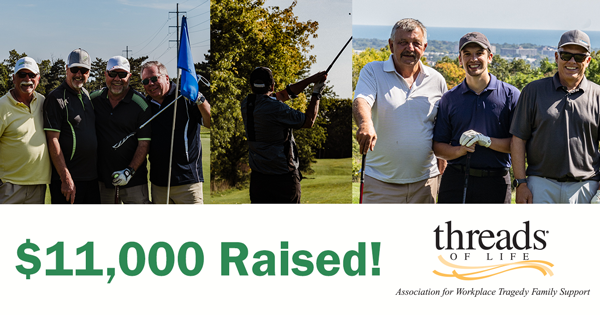 Threads of Life is a national charity that is dedicated to helping Canadian families who have been affected by a workplace tragedy, life-altering injury or occupational disease. It currently provides a network of hope and healing to more than 1,700 family members through one-on-one peer support, links to other community support services and the opportunity to take action to help prevent similar tragedies to other families. The OPCA would like to thank CK DesGrosseilliers who is the Speakers' Bureau Coordinator for Threads of Life for attending and sharing her story.
The OPCA is a long-time supporter of Threads of Life and has now raised over $87,000 to date. We are proud to support such an important organization and be a partner in endorsing safety in the workplace.
Thank you to the following hole sponsors!