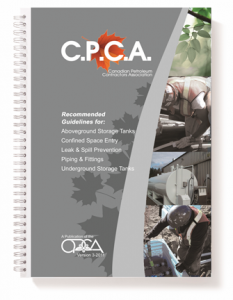 This booklet is geared to licensed petroleum mechanics and experienced petroleum contracting professionals to use as a quick reference guide, and its recommendations have been established to meet, and in most cases exceed, all provincial and/or federal regulations.
These guidelines cover the four major components of petroleum work:
Aboveground storage tanks
Underground storage tanks
Leak and spill prevention
Piping and fittings
In addition, it contains a glossary of commonly used industry terms. The full-colour, diagram and photo-heavy handbook is meant as a reference, not a text-book, and offers step-by-step instructions on how to tackle tasks like verifying recommended slope for excavations, ensuring the proper storage tank handling, and executing pressure testing methods and tank purging methods.
Price: $45.00 (members) $75.00 (non-members)
To obtain member pricing your company must be a member of one of the following provincial associations:
Association des Entrepreneurs Petrolier du Quebec Inc. (AEPQ)
Alberta Petroleum Storage System Contractors Association (APSSCA)
Manitoba Petroleum Contractors Association (MPCA)
Ontario Petroleum Contractors Association (OPCA)
Saskatchewan Retail Petroleum Contractors Association (SRPCA)
To purchase, contact us at info@cpcaonline.com